Virtual Jogs and Bike Rides
We also offer faster-paced scenery DVDs for use either while jogging on a treadmill or cycling on stationary indoor exercise bikes. These Virtual Scenery DVDs will make the time spent on your stationary bike, upright bike, recumbant bike, spinner, instride cycle, mini-cycle, Airdyne, or Endurocycle go by quickly. We currently have seven different Virtual Jogs and Bike Ride Scenery DVDs filmed in Ireland, Scotland, Canada and the USA - click on our DVD Catalog link for an up-to-date list of all of our Jog and Bike Scenery DVDs. We'll continue filming new Virtual Bike Rides in scenic areas of the USA and Europe over the coming months and years so that you can continue to enjoy the time spent exercising!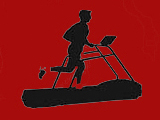 EXERCISE ON YOUR TREADMILL & TOUR AMERICA!
Imagine how much fun exercising would be if you could exercise on the island of Oahu, or in Hollywood, or in a National Park in Maine? With our series of Treadmill Virtual Walks and Virtual Jogs, you can!
We've sold thousands of our Virtual Experience DVDs and HD Downloads to customers all over the world and they tell us that our videos make the time spent exercising fun and enjoyable. Typical email: "Oh, the places I'll go, and the things I'll see - to paraphrase Dr. Seuss. Thank you so very much for the wonderful travel DVDs. I've been to Hawaii. My next stop is London! You both has done such beautiful work in interesting places, and I feel privileged that you have shared some of them with me. Martha M." Read More Customer Comments
Currently, we have Virtual Walks and Jogs filmed in Hawaii, California, Florida, Mississippi, North Carolina, and Maine, in addition to our European Virtual Walks. Order yours today and tomorrow you could be exercising in a peaceful forest in Maine!
With our many scenic travel DVDs and HD Downloads to choose from, the hard part is selecting which locale to explore first! All of our Virtual Experience DVDs have the natural sounds as they were recorded on site.
CUSTOMERS LOVE OUR VIDEOS!
We love our customers and our customers love our Virtual Experience Videos! Here's some recent emails and Amazon Reviews:
" As you know I have several of your walking DVDs. I just want to thank you for making my treadmill workouts so pleasant. Because of the beautiful scenery I have persevered in my workouts, and was able to complete my first (walking)10K last week. I really believe that training on the treadmill made all the difference in the world. People around me were stopping to rest, slowing down, etc. Once the start gun went off, I never stopped or slowed down until I reached the Finish Line. That I was able to do that was due to training on the treadmill. Oh, and I took 3rd place for my age group (65 - 69). OK, so there were only 4 in my group, but I was walking, not running! Every time I look at my nice shiny third place medal I think of you guys. I check your site frequently for new addition, and I am sure I will be adding more to my collection. Thanks for making my workouts so much fun! Joyce "
" One Customer who purchased our Florida Nature Walk DVD from our AMAZON Store wrote: "This is one of my favorites. Peaceful, calm, and beautiful. I feel as if I am walking in the Everglades and listening to nature at it's most centering. Quite wonderful.... L.L.L.""
"Another Customer who purchased the Florida Nature Walk DVD from our AMAZON Store said, "This video is a great escape into nature....the only sounds you hear are the (mostly) birds that happen to be in the vicinity as the footage is being shot. Although the camera is usually aimed straight ahead, stops are made with the camera panning to one side or another so that you can stop and enjoy the scenery. The video is smooth...and I really can't figure out why there weren't some wobbles as the photographer navigated a few really skinny boardwalks or some shaky looking stepping stones.... "
" Your product has made it much easier for me to get on the treadmill, as my Cardiologist has suggested to increase my workouts from 3 times per week to 6 or 7 times. Before finding your product, I had used regular travel DVDs during my workouts, but frankly, they did not inspire motion or a walking cadence as your virtual walk DVD does. I now enjoy the workout, rather than merely endure it. I'll undoubtedly add more in the near future, including the virtual bike rides for both my treadmill and my stationary recumbant. Great product! Allen (age 63) "